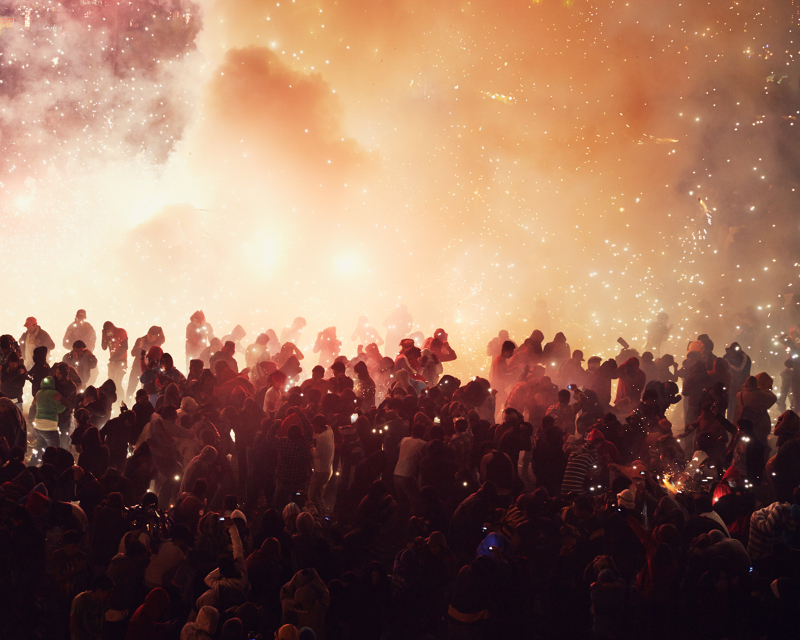 Kottke linked to Thomas Prior's collection of celebrations laden with fireworks in Mexico. Madness.
The original article at Wired tells us a bit more:
The annual nine-day festival attracts more than 100,000 people to bathe in the glow of pyrotechnicians' expert displays. The main event is the Pamplonada — a seven-hour running of the (wooden) bulls in which more than 200 timber-framed toros of fire roll through the streets with up to 4,000 fireworks on each in perpetual explosion.

Tultepec is the center of the country's firework industry, accounting for half of all fireworks made in Mexico. Approximately 30,000 of the 120,000 Tultepec townsfolk work in the pyrotechnics industry building frames, supplying parts and distributing goods. Two thousand work daily in the 300 registered workshops manufacturing fireworks.

The National Pyrotechnic Festival takes place in honor of Saint John of God, the patron saint of hospitals, the sick, nurses, firefighters and alcoholics — quite fitting given the occasion's flaming revelry and danger.
Those photos reminded me of some revelry I encountered in Guatemala. Witness El Torito de Antigua:
The video actually captures it pretty well. The nonchalance of the fellow who's got explosives strapped to a wooden bull he's wearing over his head. The nervous, bemused excitement and terror of the crowd. The madness of the entire endeavor. Not quite the same level insanity as in Tultepec… but of a similar. Mothers, don't let your babies grow up to be pyrotechnics.
We also monitored air pollution in the plaza (of course) during the march of El Torito.